One day soon, in a field by the A583 in sight of Blackpool Tower, fracking for shale gas will resume in the UK. The first attempt to kickstart this dangerous and disruptive industry had to be abruptly halted, after fracking at a nearby site in 2011 by the same company, Cuadrilla, set off earth tremors. For nearly two years,
local people have maintained a round-the-clock vigil on the roadside
. Their presence reflects the overwhelming opposition of residents to the forced intrusion of fracking into this green and tranquil corner of Lancashire. Passing motorists toot support.
The people of Lancashire could have been forgiven for thinking that they had seen off the threat of being turned into the UK's shale gas guinea pigs. In 2015, responding to their well-evidenced concerns, the county council refused permission for Cuadrilla to frack in the very same field, and in the nearby secluded village of Roseacre. But, taking advantage of planning rules the coalition government had put in place to favour fracking, Cuadrilla appealed. In 2016, Sajid Javid, then communities secretary, duly overturned Lancashire council's decision. This July, the government gave final consent for Cuadrilla to begin.
The only justification for forcing an industry with no social licence on to a community that finds it repugnant arises when there is an overriding national interest. In the case of fracking, there is no such interest. Quite the contrary. Shale gas does not, as Cuadrilla claims, offer the UK a low-carbon alternative to coal. Long before it will ever flow in significant volumes, coal will have dropped out of our energy system.
UK gas demand is falling, from its 2004 peak. Plentiful, affordable gas will remain available from the North Sea and on the international market at least for the limited period in which it is still needed in our decarbonising economy. Industry leaders accept that domestic fracking cannot bring down our energy bills.
A fully developed UK fracking industry would industrialise our countryside on a scale that few yet appreciate. It would lock in infrastructure and supply chains, and divert investment, policy and regulatory capacity away from where they are really needed. It would certainly slow down the transition now under way to a modern, low-carbon economy based on renewables, energy efficiency, and real-time digital balancing of the power supply. Not only is that transition essential in response to climate change. It is also the route to lower energy bills for households and businesses, and to higher productivity across a more innovative economy. Our overriding national interest is to speed it up, as our competitors are doing, not delay it.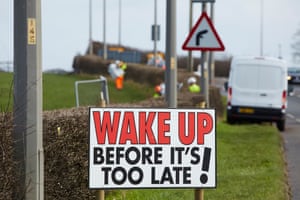 As if that wasn't enough, fracking is not nearly as safe as its advocates say. In England, the only official report was by Public Health England in 2014, and its scope was deliberately partial. Most of what is now known is from subsequent studies. These point overwhelmingly in one direction. A group of independent professionals recently wrote to Sarah Wollaston MP, chair of the social care committee, saying: "There is now convincing evidence that fracking is a danger to the health and wellbeing of people living near well sites, with several studies pointing to an increase in premature births, miscarriages, birth defects, cancer, heart attacks, migraines, childhood asthma and a variety of other lung and skin diseases." They cited the conclusion of US colleagues that "emerging data continue to reveal a plethora of recurring problems and harms that cannot be sufficiently averted through regulatory frameworks".
These are among the considerations that have led Scotland, Wales, Northern Ireland, the Republic of Ireland, France, the Netherlands and Germany to reject fracking. In this part of the world, only in England is there still any prospect of widespread fracking. The current government could have slammed the brake on the shale gas bandwagon set in motion by its predecessor. Instead, it is pressing the accelerator.
For exploratory drilling, it now proposes to exempt the industry from the need to apply for planning permission at all, by extending to shale gas rules originally designed to make it easier for homeowners to build sheds and conservatories. Once fracking wells are ready to produce gas, the government intends to designate them "nationally significant infrastructure", giving unelected planning inspectors instead of local authorities the power of approval, and making a mockery of local democracy. Moreover, while trying to force fracking on to communities against their will, it also continues to block the progress of new onshore wind projects, even where they would be locally welcome.
This is exactly the kind of cynical incoherence, driven by lobbies and cronies against the wishes and interests of everyone else, that has turned so many people off politics and politicians. Our government says it wants to be part of the solution on climate, to clean up our dirty air, to protect our environment. It cannot expect any of these claims to be taken seriously as long as it keeps trying to force open the door to wholesale fracking. Our government says it wants to give local people more control over their lives. This too will sound risible as long as it rides roughshod over local democratic processes and institutions.
The Conservatives are said to be concerned about the party's inability to attract young people. But it is the young who will pay the highest price for the mistakes we make now. If I could be young again, I would not for one moment consider supporting a party that treated my future with such brazen contempt. [...]
weiterlesen unter:
https://www.theguardian.com/commentisfree/2018/sep/03/fracking-england-tories-lancashire-council-government